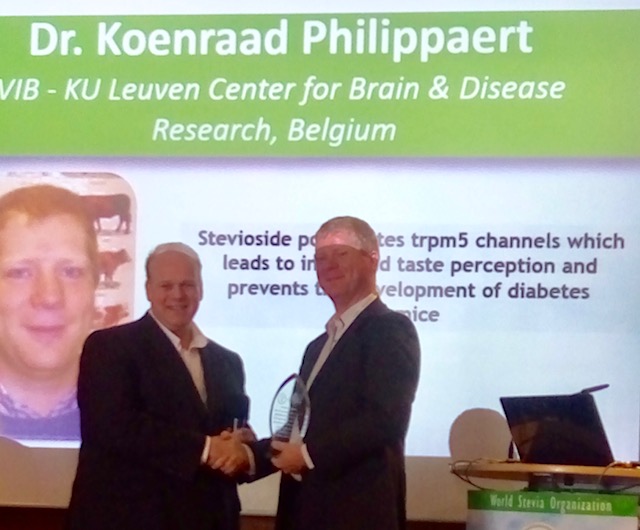 Dr Koenraad Philippaert from VIB - KU Leuven Center for Brain & Disease Research, Belgium is the second price winner of the Father of Stevia Award 2018. During Stevia Convention 2018, Dr Philippaert presented a talk about Stevioside potentiates TRPM5 channels which leads to increased taste perception and prevents the development of diabetes in mice.
About this study: "With the use of different drinking assays with mice we showed that the interaction of steviol and its glycosides occurs through potentiation of the calcium-activated monovalent cation channel TRPM5, and that steviol is taste neutral own but acts as a potentiator of sweet, bitter and umami taste in the presence of another tastant. Furthermore in pancreatic islets, both from mice and human donors, interaction of stevioside or steviol with TRPM5 in the beta-cells leads to an increased glucose-induced insulin secretion. Treatment of mice on a high fat diet (a model for type 2 diabetes) with stevioside in their drinking water vastly improves their glycemic control and protects against the development of overt diabetes."
Source: Nature, Mars 2017
According to Dr Philippaert: "[WSO Convention was an] excellent meeting, [...] and have made some valuable contacts for the future. I would also like to express my gratitude for my nomination as second prize winner of the Father of Stevia Award. This makes me feel that my work in the field is really appreciated and motivates me to continue with even more enthusiasm. This was my first attendance to a meeting of the WSO, I left for Berlin with an open mind, unaware of what to expect from a congres with a mix of academics and industry partners. I learned a lot about the world of stevia, and the challenges that my colleagues experience with the growth and breeding of the plants, the commercialization of products containing stevia and the physiological effects of stevia and its glycosides. It gave a unique opportunity to look further than my own small academic niche. The relative small size of the congress made it easy to approach the speakers and other attendees, to make contacts for future collaborations."
The World Stevia Organization congratulates Dr Koenraad Philippaert for the fsecond place of "Father of Stevia Award 2018".