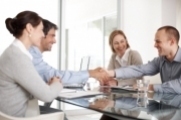 The 8th WSO Convention on Stevia which will be held in Berlin in June 3-5, 2018 will gather more than one hundred participants, industrials and academics coming from all around the world.
During the congress, the Network Session & B to B meeting are organized for every actor in Stevia chain. It is the simplest way to be in touch with the right person when you want and when you need it the most.
WSO Network Sessions are an opportunity to develop your business.
Who will attend?
WSO Stevia Network Session is available for conference attendees and also WSO members. Among them:
SweeGen, Inc, S&W Seed Company, PureCircle Limited
Qingdao Nutralong Pharmachem Co., Polisan Tarim
QS Quality Services GmbH, DSM Biotechnology Center
ADM WILD Europe GmbH & Co. KG, Wisdom Natural Brands
KU Leuven University, Department of Biochemistry Faculty of Science Mahidol University
INRA, Hungarian Diabetes Association, Michigan State University
World Stevia Organization, Abant Izzet Baysal University
Justus Liebig University Giessen, Charité Universitaetsmedizin Berlin
PT Wana Rindang Lestari
DANONE FIRMENICH AROMATICS (CHINA) CO . LTD.
Fudan University
Yerevan State University, University of Hohenheim and many more...
You can register to the convention by clicking here.
How does it work?
You will just have to fill the form with your question or field of interest. We will add you to our database and we will find the best person for your need in our Network Session Database. Thanks to our database we can find for you a buyer, a seller, an extrator or anyone coresponding exactly to your need and willing.
For example, if you are a Stevia seller we can help you to find a buyer. You are a producer? We can help you to find an extractor, or a buyer. You want to export your Stevia production? We can help you to find a buyer. etc...
A special Network Session & B to B contact will be organised during WSO Stevia Convention 2018. It will be the better occasion for you to discuss directly with other members of WSO, and leaders in Stevia chain.
You can join us filling the network session form by clicking here.
You can register to the convention by clicking here.